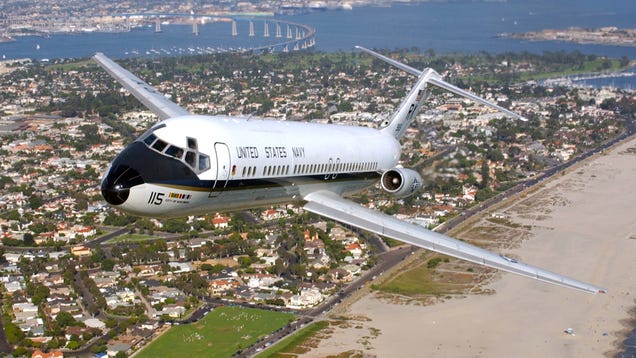 Ending its 41-year commitment to a workhorse aircraft, the U.S. Navy retired the last C-9B Skytrain II on June 28 to Davis-Monthan Air Force Base, Aerospace Maintenance and Regeneration Group based in Tucson, Arizona.
As of January, the Navy had four C-9B aircraft remaining in its inventory — one was retired in February and two were transferred to Marine Transport Squadron (VMR) 1 at Marine Corps Air Station Cherry Point, North Carolina, where they will continue service until replacement aircraft are purchased.
In 2001, C-40A aircraft began replacing the C-9 fleet.
The McDonnell Douglas C-9 aircraft was first purchased by the Air Force in 1966, and named the C-9 Nightingale. It wasn't until 1972 that the Navy ordered its first five McDonnell Douglas aircraft and accepted delivery of the first one in May 1973. Breaking the conventional military naming tradition of similar aircrafts retaining the same name, the Navy chose to name its C-9B variant after the World War II version of the DC-3, calling it the Skytrain II.
From 1973 until 1982, the Navy accepted 15 aircraft and the Marine Corps accepted two. As combined personnel and cargo haulers, the Skytrain II was widely touted as bringing the Navy into the jet transport age. Its ability to change interior configurations to meet specific airlift demands made the C-9B a flexible mission aircraft supporting a variety of passenger and cargo mission requirements.
The Navy procured 12 more commercially used DC-9 aircraft from 1983 to 1985 to augment the C-9B fleet.
navair