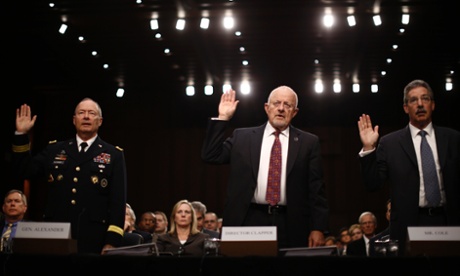 James R. Clapper, the director of national intelligence, testified before the House Intelligence Committee that the N.S.A. had kept senior officials in the National Security Council informed of surveillance it was conducting in foreign countries. He did not specifically say whether President Obama was told of these spying efforts, but he appeared to challenge assertions in recent days that the White House had been in the dark about some of the agency's practices.
Their testimony came amid mounting questions about how the N.S.A. collects information overseas, with Republicans and Democrats calling for a congressional review, lawmakers introducing a bill that would curb its activities and Mr. Obama poised to impose his own constraints, particularly on monitoring the leaders of friendly nations. At the same time, current and former American intelligence officials say there is a growing sense of anger with the White House for what they see as attempts to pin the blame for the controversy squarely on them.
Clapper said that spying on foreign leaders — even those of allies — was a basic tenet of intelligence tradecraft and had gone on for decades. European countries, Mr. Clapper said, routinely seek to listen in on the conversations of American leaders.
Asked whether the White House knows about the N.S.A.'s intelligence-gathering, including on foreign leaders, Mr. Clapper said, "They can and do." But, he added, "I have to say that that does not extend down to the level of detail. We're talking about a huge enterprise here, with thousands and thousands of individual requirements."
The White House has faced criticism for the N.S.A.'s surveillance practices since the first revelations by a former agency contractor, Edward J. Snowden, in June. But in recent weeks it has struggled to quell a new diplomatic storm over reports that the agency monitored the cellphone of Chancellor Angela Merkel of Germany for more than a decade. White House officials said that the president did not know of that surveillance, but that he has told Ms. Merkel that the United States is not monitoring her phone now and would not in the future.
On Wednesday, a delegation of senior German officials is scheduled to meet at the White House with Mr. Clapper, the president's national security adviser, Susan E. Rice; his homeland security and counterterrorism adviser, Lisa Monaco; and other officials.
nytimes