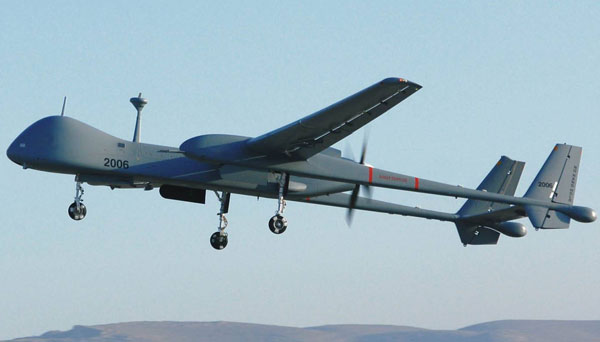 Boosting surveillance capabilities of the army along the borders with China and Pakistan, the government has cleared the procurement of around 15 unmanned aerial vehicles (UAVs) from Israel.
A proposal to procure these Heron UAVs was approved by the Cabinet committee on security at its recent meeting.
The procuring of the UAVs will bolster the Israeli-origin Heron and Searcher fleet.
The force has a fleet of more than 40 such vehicles, which are expected to undergo upgrades in the near future.
The IAF flies the Israeli-made Searcher II and Heron UAVs for reconnaissance and surveillance purposes and about 100 Searchers are in operation on Indian borders in western, northern and eastern regions.
The Army also operates a sizable number of UAVs and has deployed them in borders along the western and eastern fronts.
The Army was the first to induct UAVs in the 90s starting with Searcher Mark I and Searcher Mark II which could operate at an altitude of 15,000 feet and finally the Heron, which can operate at 30,000 feet.
The Navy has also three operational squadrons of the Israeli UAVs deployed along both the eastern and the western seaboards.
timesofindia