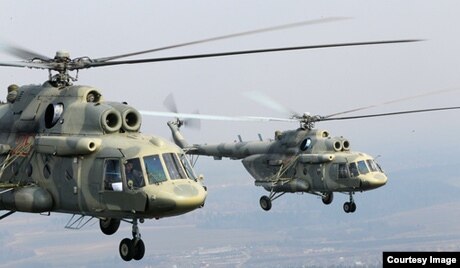 Pressure is mounting in Washington to axe a $550 million contract with a Russian state arms dealer for military helicopters after Moscow's annexation of Ukraine's Crimea territory.
But more than half of that money has already been spent, while Russia has only delivered a fifth of the promised aircraft.
As of March 20, the Department of Defense had disbursed $290 million to Rosoboronexport under the current $553.8 million contract for 30 Mi-17 helicopters to be used by Afghan security forces.
As of the same date, six of the 30 helicopters had been delivered.
Amid pressure from U.S. lawmakers who said contracts with Rosoboronexport were helping Russia prop up Syrian President government, the Pentagon announced last year that after consultations with Congress, it had opted not to purchase any more helicopters from the firm. The current contract, however, would continue.
But members of Congress have renewed efforts to have the contract scrapped entirely in light of Russia's takeover of Crimea.
U.S. military officials and defense experts have said the Russian-made aircraft are well-suited for deployment in Afghanistan. U.S. commanders in Afghanistan prefer the Mi-17 because of its durability and the fact that Afghan forces already have experience operating the aircraft.
Should the current contract ultimately be canceled or otherwise interrupted due to possible sanctions, it was not immediately clear whether the United States could recoup any of the $290 million it has already paid to Rosoboronexport for helicopters that have not been delivered.
rferl.org