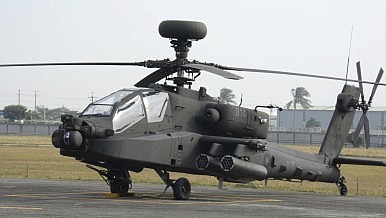 The Taiwan military is fitting the 12 AH-64E Apache attack helicopters it received from the US with new flight transmission boxes, following questions over when the choppers will be put back into service.
Once the transmission boxes are installed, a full range of safety tests will be conducted before formal test flights will be scheduled.
Training missions will resume once the test flights are completed and the safety of the helicopters is verified.
Army officials had said on Feb. 11 that the helicopters would be put back into service the following week, but that deadline has apparently been pushed back.
The 12 aircraft are part of a 30-helicopter package ordered from the US in June 2011.
The model E aircraft is the latest in the Apache attack helicopter series.
The army received its first delivery of six Apache helicopters in November last year, followed by a second batch last month.
The 12 helicopters were grounded after the military received a notification from the US in December last year about a main transmission failure in one of the Apache AH-64Es in service in the US army.
No problems were found in the helicopters in Taiwan, but the transmissions are still being replaced as a precaution.
The final three batches of six choppers will be delivered to Taiwan with the new transmission boxes later this year and are scheduled to arrive next month, in May and July respectively.
Taiwan and the US are currently the only two countries that have used the latest Apache helicopter model.
taipeitimes