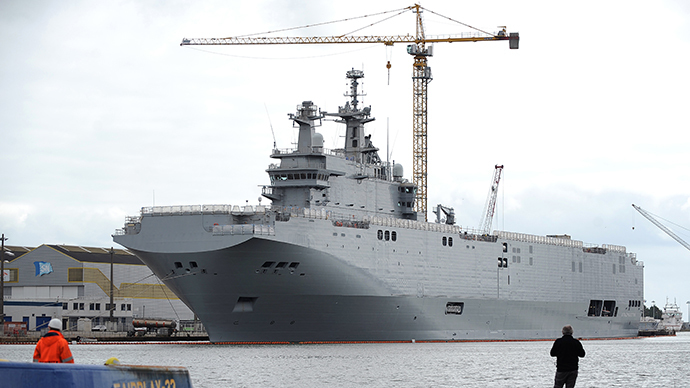 French President François Hollande delayed indefinitely on Tuesday his decision on whether to deliver the first of two Mistral helicopter carriers ordered by Russia citing the "current situation" in eastern Ukraine.
The statement follows months of speculation about the contract, with Paris coming under intense pressure from its NATO allies to scrap the contract.
The Vladivostok was supposed to be the first of two Mistral-class helicopter carriers delivered to Russia according to the original deal signed in 2011.
The ships, which were built in the western French port city of Saint-Nazaire, were scheduled to be delivered to Russia by the last quarter of 2014.
The concern in France, which is suffering from record-high unemployment and stagnant growth, is that it not only loses the receipts from this sale but also that its credibility as a weapons exporter is compromised.
Russia has reportedly warned Paris of "serious" consequences unless France delivers the first of two Mistral-class helicopter carriers by the end of November.
However, Russia's Deputy Defence Minister Yuri Borisov told RIA news agency on Tuesday that Russia would not pursue claims against France over non-delivery, but expected the contract to be fulfilled.
france24.com