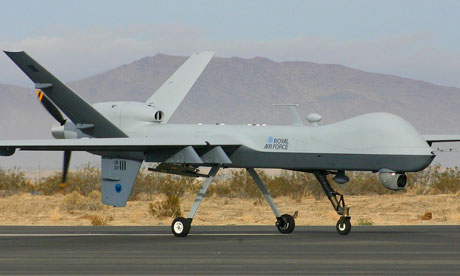 Britain's heavily armed Reaper drones could soon be sent to spy on Isil militants in Iraq according to plans being drawn up by the RAF.
Defence planners are considering sending the remotely-piloted aircraft to the Middle East once they have finished watching over the withdrawal of British troops from Afghanistan.
If the plan is given the go-ahead, the aircraft could be in place around the end of the year.
Britain is currently building up its surveillance planes in Afghanistan to cover the final weeks of the British withdrawal from Helmand. Commanders fearful that the final pull out from Helmand will see British forces at their most vulnerable want as much intelligence as possible to avoid attacks and ambushes.
As well as Reaper drones flying from Kandahar airfield, the RAF has recently sent a Sentinel spy plane that had been in Nigeria searching for schoolgirls kidnapped by Boko Haram. Last week the Army announced it was finally flying its long-awaited Watchkeeper surveillance drone over Afghanistan, just weeks before the pull out from Helmand.
RAF sources said once the withdrawal was complete, the Reapers would need to be packed up and shipped to an airbase in the Middle East, which could take as long as a month.
American drones are flying from bases inside Iraqi territory, but it is not clear which sites the RAF would use.
telegraph